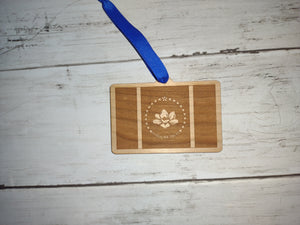 Mississippi Flag Ornament (Magnolia Blossom)
Regular price $10.00 Sale
A Mississippi flag ornament created out of cherry wood. This is the new Mississippi flag adopted by the state on January 11, 2021. The flag features a magnolia blossom, 21 stars, and the words "In God We Trust". The ornament measures about 2.2" x 3.2" (5.8 x 8.2 cm) and is 1/8" (3mm) in width. The ornament is made from a solid piece of cherry wood that is brown with rich red hues.
We are able to add customized text on the back.
Perfect for commemorating your homestead in Mississippi, a vacation, military duty station, etc.
The ornament is precision cut by a laser. The flag color scheme is represented by 2 tones made by etching into the cherry wood, giving the ornament a classy subdued feel.
Consider commemorating the following areas:
Jackson
Biloxi
Gulfport
Natchez
Meridian
Hattiesburg
Consider for commemorating a military duty station at:
Keesler Air Force Base
Camp Shelby Army Base
Naval Air Station Meridian
Contact us if you want different sizing or other customizations!